Cartier Tankmust (medium) WSTA0041, comprehensive comparison of Gen, AF and K11
27 May
Hello, guys. I'm Steve and I'm back.

We've been working on male models comparisons for a while now, until recently I realized that we hadn't done any female comparisons, so here it is.

Although there are only two factories producing tanks, AF and K11, and most friends are familiar with the best options for this model, I think it's important to bring this comparison, after all, it is one of the few popular models for women.

So without further ado, let's take a look at the current tank models available from the factory and see what they are really like.

Dial front view


View of the dial in natural light


Under lighting View
In fact, in terms of appearance alone, both factories have done such an excellent job that they have reached the point where it is hard to tell the real thing from the fake.

At least when I compared the three watches side-by-side with their straps removed (I mixed up the three watches), I couldn't quickly tell which one was the GEN by the colour of the dial and the overall appearance, and that was my honest opinion. So which factory do you think is better?

Side view of the Crystal


The mirror edges of the GEN are chamfered, the horizontal side is very well finished by both factories, very close to the GEN, but the vertical side is a little different.

View of dail font stick


In fact, there is no difference between the two factories when you simply look at them with the naked eye, and it is easy to see from the macro photos in high definition that the K11's scales are not full enough, and there is hardly any sense of dimensionality.

In addition, the overall neatness and the placement of the strokes are relatively better in AF.

View of minute scale


In the printing process of the scale of the few minutes, AF is also better. The edge of the scale line of K11 is not regular, and the spill over is more worse.

On the thicker minute scales such as 5 and 10, the K11 has an obvious stroke, the white lines are visible in the picture, and I think K11 has done this to compensate for the lack of dimensionality in the scale.

View of dial oil font


The oil font on the dial is still better done by AF, although it is less full than GEN, but at least it has a certain sense of dimensionality, while K11 has none at all, and the colour of the letters is uneven, but it is not obvious to the naked eye.

View of hands


The colour of the hands of both factories is very close to that of the GEN, but it is not always the same, as there is a colour difference.

The blue colour of both factories is brighter than that of the GEN when viewed from a down light perspective.


View of hands central


It is easy to see from the pictures that the centre of the K11 is not the same height as the GEN, which is slightly higher than the minute hand, while the K11 sinks very significantly, although the AF is in line with the GEN.

In addition to this, I also noticed a problem with the K11 by comparing it side by side, the rounded part of the hand is also slightly smaller compared to the GEN.

As for the AF, it's also not that perfect, the hands seem slightly thicker when viewed from the side, and that's just from the similarity aspect, actually, a thicker pointer is not a bad thing, what do you think?

Side view of the crown


There is no significant difference in the shape of the crown between the two factories compared to the GEN

But the main difference is the brightness of the blue spinel, which is lacking in both factories, Comparatively speaking, the AF is brighter than the K11.

Side view of the case



As for the shape of the sides of the case, both factories are very good, and as for the nuances of the case diameters, you can see the comparative view of the data at the end of this article.

We can also see the screw holes on the side of the K11, which are a little smaller. The AF is the same as the GEN, and the screw slots are very flat and clean.

View of back case


In the first picture we can notice that the width of the beveled edge of the rear bottom cover of the K11 is noticeably narrower, the AF is slightly wider but at least it is within acceptable limits

In terms of the depth of the engraving, there is not much difference between the two factories.

Detail of the strap


The genuine product has a calfskin leather strap (with quick release), which doesn't feel particularly good in the hand.

Just to clarify, as we purchased a second-hand GEN, we are not sure if the strap is original. Both the AF and the K11 have synchronised GEN straps, but the AF strap is a little thicker than the K11.

View of the movement


The great thing about quartz models is that there is no worry about errors and there are virtually no after sales problems. So if it's a gift for your wife or a girlfriend, the quartz feminine model is definitely the first choice.

The AF and the K11 are both Swiss quartz movements, with different models, but there is no real difference, as they are both electronic anyway.

Although the movement is not visible in the case of the solid case back model, the K11 is to be commended for its internal slotted construction

Which was made in parallel with the GEN, this is a very careful approach, while AF has omitted the reproduction of the internal structure, but this does not affect the overall similarity.

Data comparison chart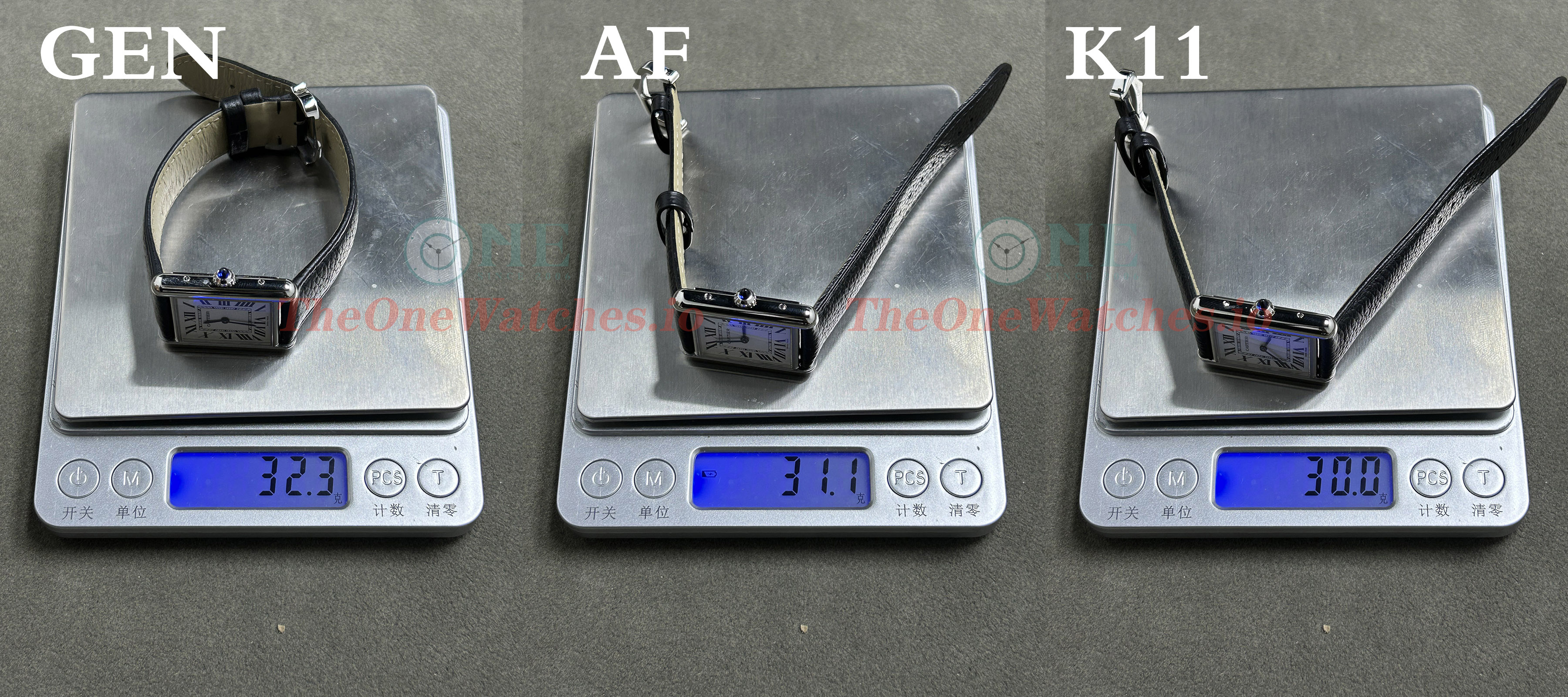 Well, today's post is here, thank you guys for watching. If there are any mistakes, please correct me. If there is anything else I overlooked, you can put it up, and I will try my best to complete it. Welcome to comment and exchange!

I will continue to bring you more detailed comparisons between replica watches and GEN's. And it is also for you to choose the favorite models conveniently.

Illustration: Some photos deviate from the real object due to the light source. For details, please refer to the content. The size of the comparison picture is relatively large, you can download it and enlarge it for comparison.

There is no perfect replica, only the one you prefer.

Thanks.

Steve.